At least now we know who LucidLogix first Virtu customer is, namely none other than Intel (INTC) itself who intends to bundle the graphics switching software with some of its Genuine Intel Desktop Boards. The details are slim so far as two which motherboards it'll be, but the press release does at least make it clear that it'll be boards based on the H67 and Z68 chipsets which suggests that Intel doesn't consider its H61 chipset good enough to get some Virtu love.
We have a feeling that at least initially only boards in Intel's Extreme and Media series will see Virtu being bundled and as far as the Extreme series is concerned, that will only apply once Intel launches the Z68 chipset. If nothing else, Intel will at least slap a sticker on the box to let you know that it comes with Virtu to make it easier to know if you're buying the right board if you're be mad enough to buy a Genuine Intel Desktop Board.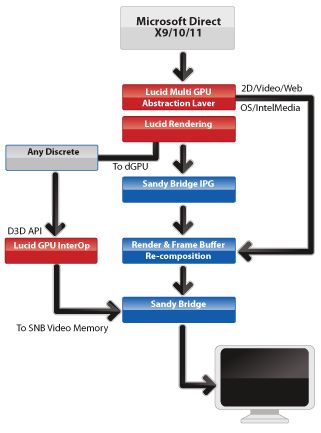 Apart from enabling the usage of Intel's Quick Sync technology while still being able to take advantage of the vastly improved 3D graphics performance for a discrete graphics card when needed, Virtu also allows access to Intel Insider. Yeah, it's ok, we'd forgotten about Intel's DRM laden video streaming service which is still "coming soon" and of course is only to those that live in the US.
In as much as we think LucidLogix has come up with a good solution, we can't but help to wonder if Intel shouldn't just have tweaked the way its CPUs work and given everyone, no matter the motherboard chipset, access to Quick Sync. And what do those that already own a compatible motherboard do? The press release doesn't mention anything about all those that have already bought an Intel H67 board. It seems like they'll just have to download it from somewhere on the sly then.
Expect more announcements in the near future from LucidLogix about other motherboard makers that will be offering Virtu with their boards as the company should've netted a few of the Taiwanese board makers as well.S|A
The following two tabs change content below.
Latest posts by Lars-Göran Nilsson (see all)