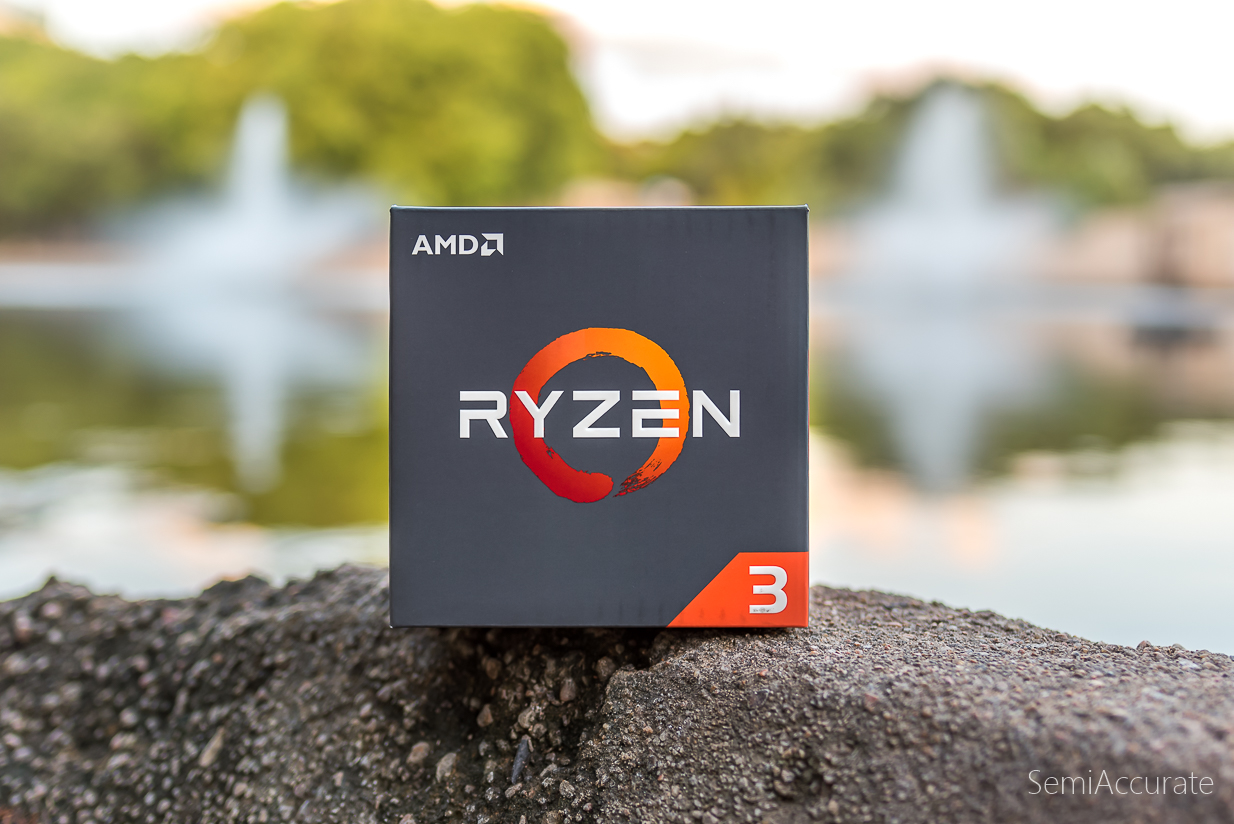 Today AMD is launching its entry-level Ryzen 3 lineup with two quad-core parts the 1300X and the 1200. Both of these chips inherit the same Summit Ridge die used by the higher end Ryzen 7 and Ryzen 5 SKUs but they lose out on core counts other than 4 and offer only a single thread per core. Due to a pile of bargain bin chips left over from the Bulldozer-era AMD is not planning to release CPUs with less than 4 cores as part of the Ryzen series.
The Ryzen 3 1300X is the top part in the Ryzen 3 series with a 3.5 Ghz base clock and a 3.7 Ghz boost clock on 4 cores with 4 threads inside of a 65 Watt TDP. The Ryzen 3 1200 is the bottom with the same vital specs and a lower 3.1 Ghz base clock and a 3.4 Ghz boost clock. If you're looking for the Ryzen part with the best single-threaded performance per dollar then look no further than the Ryzen 3 1300X.
Taking on Dual Core Kaby Lake
Ryzen 3 has stiff competition from Intel's Kaby Lake i3-7300 and i3-7100 parts which offer comparable or better single threaded performance while losing decisively in multi-threaded workloads. Intel's i3-7100 offers a base clock speed of 3.9 Ghz and the i3-7300 has a cool 4 Ghz base clockspeed; both are higher than their Ryzen 3 counterparts. But they are handicapped in multi-threaded scenarios because they are dual core hyper-threaded parts rather than legitimate quad-cores like AMD's offerings. One place where Intel's Kaby Lake appears to have a clear advantage is power consumption. But this is a limited advantage in the desktop market where price and performance often outweigh efficiency.
A quick browsing session on Amazon reveals that there's no significant difference in motherboard or memory cost between Ryzen 3 and the Core i3 series that can give either chip an advantage. Both platforms offer motherboards starting at about $60 and require DDR4 memory. The choice here basically boils down to cores or clock speed. Ryzen 3 looks to be the better bet for overclocking given its relatively low clock-speeds compared to higher-end Ryzen 5 and 7 parts which implies good headroom. This potential is coupled with the knowledge that even with overclocking its hard to overcome being short a pair of cores in multi-threaded workloads.
For more on the Ryzen 3 1300X and its little brother the Ryzen 3 1200 you can scroll thru our stand-alone reviews of these chips.
Bringing Back Bristol Ridge
Alongside Ryzen 3 AMD is also finally bringing its Bristol Ridge APUs to the desktop. For those of you that had forgotten that this part even existed, we can't blame you. As it stands now AMD's 7th generation APUs are basically an irrelevant afterthought due to their anemic single-threaded performance and positively ancient architecture. Still there's a kind of morbid curiosity to Bristol Ridge that I can't explain.
On that note AMD gave a small update on the timing of its Zen-based Raven Ridge APU. It will coming to market first in the mobile space in late Q3 or Q4 and desktop parts will arrive around the beginning of next year.
Ever since Carrizo launched in 2015 AMD's go to market strategy with its APUs has been mobile first. Finally getting Bristol Ridge on the desktop is another reminder that AMD continues to see the low-end desktop market as a dumping ground for its last-gen mobile parts. Does anybody still remember the AM1 platform or the Carrizo-based Athlon parts? Cheap, cheerful, and DOA to all but the most cost-conscious buyers.
With all that said my expectations for Raven Ridge are substantial given the possibility of getting a R5 1400 and a gimped RX 560 in a 95 Watt TDP for less than the cost of those two parts combined. It's far too early to pin any specific hopes on AMD's Zen-based APUs but it's worth acknowledging their potential.
Standalone Wraiths
In response to a whole pile of customer requests AMD is announcing a plan to offer a standalone version of its Wraith Max stock cooler. This is an improved version of AMD's Wraith cooler that comes bundled with AMD's non-X Ryzen 7 parts and offers an LED lit accent color ring to spice up the aesthetic of your next desktop build. This is a neat, if largely symbolic move by AMD. Traditionally consumers have only has access to stock coolers thru processor bundles or thru shady re-sellers on Ebay and Alibaba. Mostly this was the case due to a lack of demand because until the Wraith neither AMD, nor Intel had made a stock cooler that was anything more than barely functional.
With Ryzen 3 AMD has finally brought its Zen-core down to the $100 price point. It's not a clean kill, but it's a competitive offering that make sense for a majority of use cases. Competition in the entry-level desktop processor market has once again grown even stiffer.S|A
The following two tabs change content below.
Thomas Ryan is a freelance technology writer and photographer from Seattle, living in Austin. You can also find his work on SemiAccurate and PCWorld. He has a BA in Geography from the University of Washington with a minor in Urban Design and Planning and specializes in geospatial data science. If you have a hardware performance question or an interesting data set Thomas has you covered.
Latest posts by Thomas Ryan (see all)