AMD is releasing some Threadripper info today, mainly speeds and feeds. There wasn't enough time to do a proper article so SemiAccurate is bringing you the data that we can.
There are three Threadripper variants, the $999 16-core 1950X, $799 12-core 1920X, and $549 1900X. All four are two die, 4 DDR4 channel, 64 PCIe3 lane bearing, fully unlocked chips. Unlike Intel, AMD is not neutering needed features to prop up high-end pricing, every Threadripper is fully featured. The lineup looks like this.

The info in question
On the author's birthday you can get the two higher end Threadrippers with the low-end 8-core following three weeks later on someone else's birthday. There are a claimed 20 liquid cooling options and five air cooling options. More importantly the box of Threadripper comes with two bonuses, a torque wrench and an adapter for the Asetek water block. This means any Asetek OEM'd cooler on the market should be compatible out of the box. The 180W TDP of Threadripper should have a lot of headroom with any recent Asetek water block.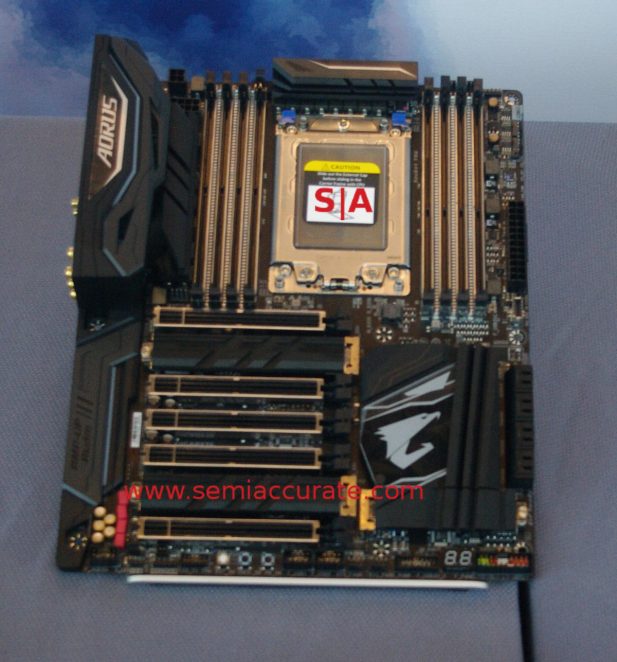 Gigabyte X399 Auros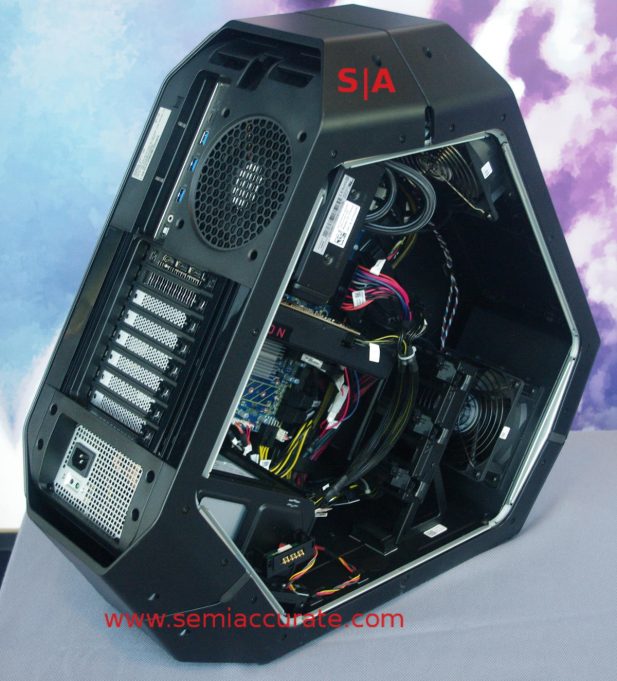 Alienware Area-51 Threadripper Edition
There were six motherboards shown off for Threadripper, the Gigabyte X399 Auros Gaming 7, Asus Prime X399-A, Asus ROG Zenith Extreme, Asrock X399 Taichi, Asrock Fatality X399 Professional Gaming, and the MSI X399 Gaming Pro Carbon AC. All are high-end enthusiast boards with almost everything you can want in a system. Alienware also had their Area-51 Threadripper Edition machine on display for those that don't want to build their own.
There is a lot more cool information to tell you about but due to idiotic briefing times and embargo lifts, there isn't time enough to ask questions and provide our readers with more information. Rather than do a half-assed job, we will just give you the numbers and call it done. If AMD ever decides to not screw the press over, they might get the story that they want out.S|A
The following two tabs change content below.
Charlie Demerjian is the founder of Stone Arch Networking Services and SemiAccurate.com. SemiAccurate.com is a technology news site; addressing hardware design, software selection, customization, securing and maintenance, with over one million views per month. He is a technologist and analyst specializing in semiconductors, system and network architecture. As head writer of SemiAccurate.com, he regularly advises writers, analysts, and industry executives on technical matters and long lead industry trends. Charlie is also available through
Guidepoint
and
Mosaic.
FullyAccurate
Latest posts by Charlie Demerjian (see all)