Intel was a model of consistency at Computex, but unfortunately SemiAccurate forgets why. If memory serves, we weren't expecting much from the company but we came away disappointed.
As an aside we were trying to come up with a silver lining to talk about the Intel Computex 2018 keynote, but, well, we honestly couldn't. The problem was honesty or lack thereof. Again. Lets start out with the elephant in the room, Intel's 28-core 5GHz CPU demo. Our tale starts out last year at the same venue, the 2017 Computex press conference.

Someone 'forgot' a few details
Remember last year at Computex, Intel 'launched' a vaporware CPU line so impressive that they couldn't even put the specs on a slide. Why? They got word about AMD's upcoming Threadripper launch and had to upstage it. They did, sort of, but the main result is Intel became a laughingstock among the press and enthusiasts. At the time they had little credibility to spare, after the showing there was none. This year 18-cores became 28, again sort of.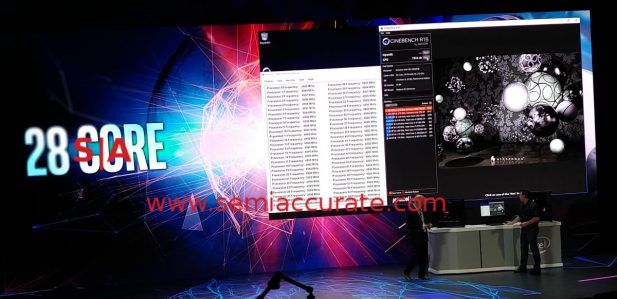 Overclocked? We 'forget'
On stage the company mentioned a 28-core product that didn't have a name but hit 5GHz. No details were given but thanks to Anandtech and Toms, then Anandtech again, the story came out. The big problem is Intel claims they "forgot" to tell people that the device was overclocked to the extreme. Coming right after the 8086K 4.0/50GHz introduction, it was almost as if this was intentional so people would 'assume' that the two were alike.
Intel claims it wasn't an intentional PR attempt to mislead, just someone forgetting to mention key details. Again. And they forgot to mention a bunch of things at the Optane/Xpoint/Apache Pass launch. Memory fades around 10nm this time of year too. And 2019 is so far away that Intel can't seem to remember that the 10nm launch is currently set for Q4. Photoshopped chips aren't a memory problem, but it seems that 5G standards compliance may be though. The performance around security patches seem to bring up memory issues at the company too, somehow the workloads that customers use are forgotten in the performance claims by Intel 'bloggers'.
We would go on but our memory only goes back a few months so this is all the forgetfulness SemiAccurate could remember. Normally when a company 'forgets' something, we give them the benefit of the doubt unless their track record had removed that possibility. You can make up your own mind on Intel and forgetfulness, we know we have. If Intel ever wants to stop the internal rot, people should be fired for 'forgetting' things of this import, especially when done in a public way with what sure looks like intent. Again and again and again and again and….
Back to the tech, Intel was trying to upstage AMD's 32-core Threadripper 2 launch on the following day. Like last years 18-core CPUs, the 28-core part didn't exist a few weeks ago. The company took the big XCC Xeon die and didn't fuse it off as much as normal so it could be demo'd as a 'consumer' part. The boards were server/workstation ones with 29-phase power, industrial water chillers were needed to make the demo work, and the CPU itself was undoubtedly a one-in-a-million golden sample needed to hit 5GHz on all cores.
The top Xeon 8180 is a 205W part that has a base clock of 2.5GHz/3.8Ghz base/turbo, the 165W 8176 runs at 2.1/3.8GHz. Since Intel's Cascade Lake is due in Q4 like this unnamed 28-core device, it too will use the updated Kaby/Coffee cores. Yes we know only the hyperscalers get Cascade in Q4, the rest of us have to wait until Q1/2019 but the cores will be in the XCC die by then and this product will get it.
As on the desktop front, this new core and the process revisions is probably worth a few hundred MHz without any added TDP. Lets ballpark it at 400MHz so the 8176 effectively becomes an 8180 at the lower 165W TDP. Lets also ballpark it by saying the 205W TDP could support a 2.9GHz base device. Turbo also gets a few hundred MHz bump as well, but only only for 1C turbo when it matters.
Since clock gain is far from linear with TDP, you can safely assume that this 28-core demo at 5.0GHz was both unrealistic can heavily overclocked while taking hundreds of watts more than stock. It was not presented as such. Intel 'forgot'. That said the demo wasn't a real product, wasn't a real board, and was seems like reactionary vaporware. Again. It will come out, and it will even have a name by then, but it won't be useful to the audience it was pitched at, gamers and enthusiasts. That said AMD's 32-core Threadripper 2 is both useful and real, but more on that later. Oh yeah, AMD will be cheaper too, we 'forgot' to mention that.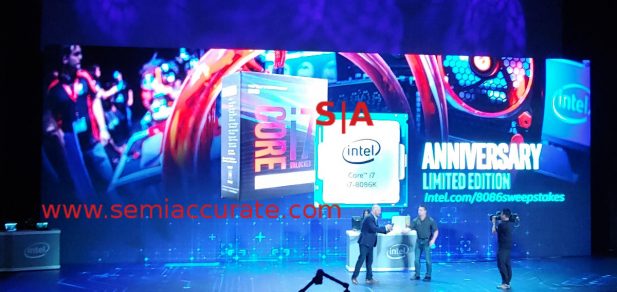 8086K 'forgets' to sample
The real big news at the keynote was the launch of the Intel 8086K CPU, a 4.0/5.0GHz chip. This one is so good Intel is not sampling the press or even giving out specs on it. It is just a highly binned Coffee Lake part that ups base clocks by 300MHz and 1C turbo by the same amount. Anandtech bought one and tested it with some pretty withering results. If you are wondering why we say Intel is fatally allergic to questions and avoids the press at all costs, look to their behavior on the 8086K, it explains everything. The lack of sampling is simply due to someone forgetting it, really, no intent there.
From there the company went on to a new Asus Zenbook with a Movidius AI processor in it. This is a consumer notebook with an AI processor on board, not a workstation or server. Intel and Asus strongly intoned that it would bring new heights of awesomeness to the PC world but, well didn't explain exactly how. SemiAccurate thinks it will be great for the consumer because of the immense software base that will benefit from the Movidius CPU. Here is a list of consumer software currently out or coming in the near future that benefits from the Movidius chip:
———–Begin List————-
Nothing
———–End List————-
If Intel had said this was a workstation or developer notebook with Movidius on board, fine, that may make sense. Actually no it doesn't and never will because the update cycle of AI device is far far far shorter than the lifecycle of notebooks. And guess what can't be upgraded? Think there is a reason Movidius chips come on a USB stick?  A cheap consumer toy with an AI chip is about as well thought out as 'forgetting' vital facts on a 28-core demo. This whole concept is simply there to get headlines, it is about as useful as the software list is long, but Intel somehow forgot to mention that bit.
Then on to 5G which Intel promised will be in laptops by 2019. Given that the company couldn't claim 5GNR for their $200M Olympic branding stunt, we doubt this will actually happen. Intel has yet to meet their promises on current 4G LTE chips and is ~2 years behind on their 5G plans according to insiders. This is probably why their press release was vague and fact-free on the topic of 5G. Almost as if it was meant to placate analysts and investors about the obvious lack of progress around 5G silicon and someone forgot to mention the specifics.
Looks good if you don't forget something critical
Last up we have another of Intel's fact-averse headline grabbing attempt that comes back to bite them. Intel claims Their upcoming PCs will have 20+ hours of battery life, up from 8+ hours in 2012. That's great right? Sure it is, but again Intel forgot something critical, Qualcomm based PCs have been on the market for ~6 months and got 24+ hours of battery life. And the day before they announced a 25+ hours of battery life PC.
According to Intel's own metrics the Qualcomm PC is better in every way, it gets almost a day's more battery life, has a working LTE modem, is always on/always connected, is thinner, lighter, and better. We forgot to mention that SemiAccurate doesn't believe that the ARM based PCs are better, but Intel's messaging sure makes it clear that they are, and they refuse to tell us why their CPUs are so much as adequate. Since we don't have anything else to go on but Intel's word, Qualcomm's silicon seems to make a much better PC on the critical metrics for buyers. Could Intel have forgotten something?
In a nutshell that is Intel's 2018 Computex performance. The pattern of 'forgetfulness' continues unabated. The company has nothing to offer but vapor with critical details omitted. When things or people could question their intended message, things get 'forgotten'. The 28-core part being real was a convenient omission, as was 'forgetting' to mention the extreme overclocking of it. The 8086K sampling scheme slipped the mind because the results were, well, underwhelming when Anandtech got one. Intel 5G not being standards compliant, photoshopped chips, and non-working LTE modems were also a timely mental lapse. Losing in battery life and all other relevant metrics to Qualcomm on the PC front also might suggest early dementia. In short Intel seems to 'forget' only things that could potentially contradict their message, and only when doing so would benefit them, a curiously repeated pattern. In light of this, the best thing to do with Intel's 2018 Computex performance is to forget it.S|A
The following two tabs change content below.
Charlie Demerjian is the founder of Stone Arch Networking Services and SemiAccurate.com. SemiAccurate.com is a technology news site; addressing hardware design, software selection, customization, securing and maintenance, with over one million views per month. He is a technologist and analyst specializing in semiconductors, system and network architecture. As head writer of SemiAccurate.com, he regularly advises writers, analysts, and industry executives on technical matters and long lead industry trends. Charlie is also available through
Guidepoint
and
Mosaic.
FullyAccurate
Latest posts by Charlie Demerjian (see all)