Last week Qualcomm made a milestone public call on a 5G phone using OTA licensed sub-6 bands. This may not seem like a huge step forward but it is, especially when you see the devices they used.
The call was made during the main keynote at Qualcomm's 4G/5G Summit last week in Hong Kong. The other end of the link was a current Ericsson cell upgraded to 5G signaling like you will see in may of the early sub-6 rollouts, 5G can be interleaved with 4G packets. The call was done over public licensed spectrum.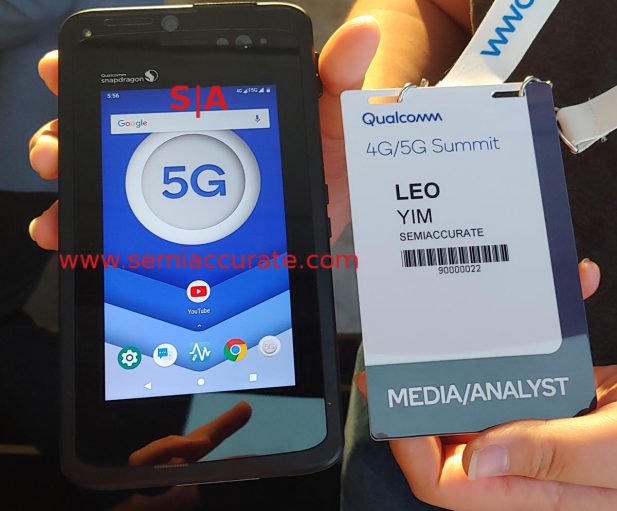 Leo Yim holds the first 5G call phone
As you can see from the picture above, the phone in question had a very prominent 5G wallpaper but if you look up top you will see the 5G logo beside the 4G logo, both with full bars. This is likely due to the cell hardware used being positioned in the lights to the left of where Christiano was standing. In any case it worked and as you can't really see in the awful picture below, it streamed video without a hitch.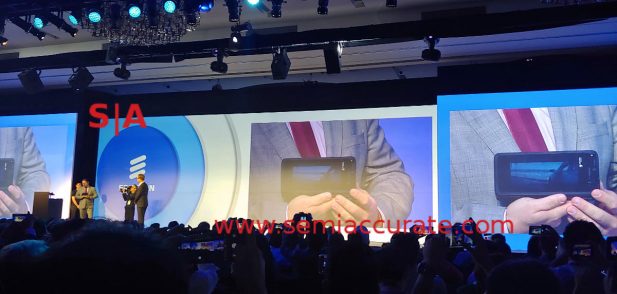 It streams video too
The phone used was a bit big and clunky because it was a development, not production ready sizes. That said it was small enough to be used and pocketable if you have decently sized pockets. A bit later in the keynote, Qualcomm brought out the production ready reference design and it was about the size of a standard cell phone, maybe a little thicker but nothing you would notice unless you were holding both side by side.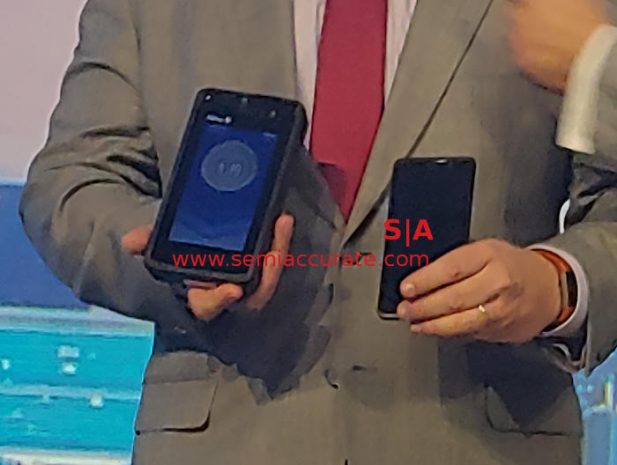 Old and new 5G designs
So now we can say there has been a public 5G sub-6 phone call made, or at least a data stream which if you are being pedantic is the same thing as a voice call from a phone perspective. In any case it worked, the hardware was a bit clunky but quite livable, something the next gen reference design fixes. 5G on sub-6 bands is here and both devices sport mmWave antennas too so the future looks bright. Has anyone else shown silicon?S|A
The following two tabs change content below.
Charlie Demerjian is the founder of Stone Arch Networking Services and SemiAccurate.com. SemiAccurate.com is a technology news site; addressing hardware design, software selection, customization, securing and maintenance, with over one million views per month. He is a technologist and analyst specializing in semiconductors, system and network architecture. As head writer of SemiAccurate.com, he regularly advises writers, analysts, and industry executives on technical matters and long lead industry trends. Charlie is also available through
Guidepoint
and
Mosaic.
FullyAccurate
Latest posts by Charlie Demerjian (see all)